Pharma Marketing: Selling Sex Isn't Always Sexy
What's the first thing that comes to your mind when you hear the phrase "pharma marketing?"
a) A flashy TV ad that ends with "Ask your doctor about…" (followed by the requisite laundry list of potential side effects known in the industry as "fair balance")
b) A drug-pushing pharmaceutical sales rep plying doctors with perks a la the movie Love & Other Drugs
c) A training module that educates pharmacists about the risks associated with a particular drug and provides tools for patient counseling
Chances are, you didn't pick c—but that will be a critical part of Sprout Pharmaceuticals' support of Addyi (flibanserin), which was recently approved for the treatment of female sexual dysfunction.
Because use of the drug is contraindicated in women who drink alcohol, the FDA is requiring all healthcare providers who wish to prescribe or dispense it to become certified. For pharmacists, this will involve completion of a risk evaluation and mitigation strategy (REMS) program. The Addyi REMS program requires a designated representative from the pharmacy to:
Complete an enrollment form
Review the training module and complete a knowledge assessment
Ensure staff involved in dispensing the drug are also trained
Establish procedures that ensure staff verify that the prescriber is certified to prescribe the drug, and that the prescriber has counseled the patient to avoid alcohol, before dispensing the drug
Ensure staff involved in dispensing understand the importance of adverse event reporting
Document all processes and procedures related to the Addyi REMS program, and be able to provide that documentation on request
Comply with audits or inspections conducted by the pharmaceutical company, a designated 3rd party and the FDA
Obtain authorization for each prescription in order to verify that the prescriber is certified prior to dispensing
Counsel patients to avoid alcohol use while taking the drug
Seems like a lot of work just to be able to fill a prescription, doesn't it? That's where marketing comes into play: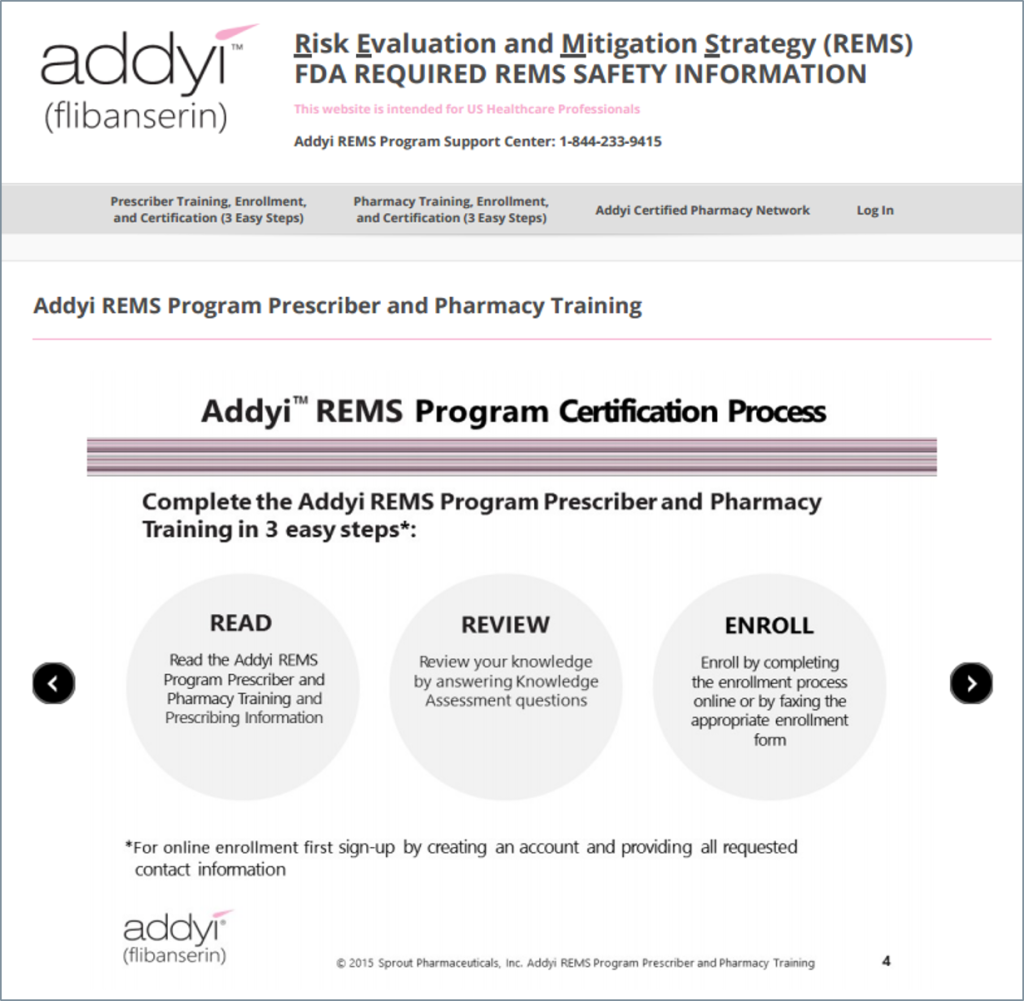 It may not be as flashy as a direct-to-consumer ad, but it gets the job done by simplifying the complex for an incredibly busy audience. The rest of the training program is just as straightforward, combining minimal branding with enough information to educate without overwhelming.
Even if the FDA had not required the certification program, some sort of pharmacy-facing marketing would still be a good idea. Here's why:
Pharmacists are medication experts—it's their job to understand the drugs they dispense, and they are open to receiving information from pharmaceutical manufacturers.
Patients see their pharmacists more frequently than they see their physicians, giving pharmacists more opportunity to monitor adherence, recognize potential for drug interactions and identify medication errors.
Patients trust their pharmacists—pharmacists ranked second in a recent Gallup honesty and ethical standards poll, tied with medical doctors and surpassed only by nurses.
Physicians trust them, too—for all the reasons above, when a pharmacist makes a recommendation for a medication therapy change, prescribers are likely to accept it.
While we did not do the marketing for Addyi, we have designed and implemented other successful pharmacy marketing campaigns, including an award-winning adherence program and the launch of a revolutionary topical medication applicator. We understand that in the excitement of bringing a new product to market, it's easy to overlook the less sexy side of pharma marketing and focus your efforts on consumers and prescribers, but trust us—marketing to pharmacists is an investment that pays off.