Team Building: Work Together, Play Together
If you follow us on any of our social media channels, you have likely seen a few posts about our company outings. These team building exercises have become a big part of our company culture, and for good reason: when we take the time to learn, play and experience things together, we become a stronger team. We communicate better and we work better together, which ultimately helps us to better serve our clients.
We take turns planning our outings, and each one brings a little something of its planner's personality to the experience. Over the years, we've amassed quite a variety of team building outings.
Some were business related
Bron-Shoe Company tour
Graeter's Ice Cream tour
Parade of Homes tour
American Whistle Factory tour
Radio One open house
        Business card and stationery printing at Igloo Letterpress
Some served to spark our creativity
Glass blowing
Ceramic plate painting
Monet exhibit
Cultural Arts Center tour
Ballet Met rehearsal
Pulitzer Prize-wining photo exhibit
Warhol exhibit
Carravagio exhibit
T-shirt making at Outfit Good
Some were purpose-minded
Making lunch for families at Ronald McDonald House
Pilot Dogs, Inc. tour
Volunteer time at Ohio State LIFE sports camp
Assembling and painting furniture at The Furniture Bank
Some were educational
Fencing lesson
Post office processing tour
Anthony Thomas Candy tour
Mansfield Reformatory tour
Joseph Cross Medical Center tour at Columbus Zoo
Rumpke recycling plant tour
Watershed Distillery tour
And some team building outings were just plain fun
Circle S Farms Pumpkin Patch
Go-cart racing
Magic Mountain
Franklin Park Conservatory butterfly exhibit
Candle making
Scavenger hunt
Bowling
Columbus Clippers game
Murder mystery game
Hocking Hills zip-lining
Thurman restaurant
Ohio Stadium tour
Bluejackets game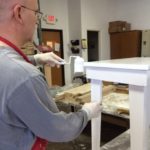 Feel free to take some of these ideas back to your office for your next team building event, and if you have any ideas for what we can do next, we'd love to hear them!