Vendors you can count on are critical to business success, and we're pretty lucky in that department. We count among our business partners some of the most talented professionals anywhere.
But some vendors just do…more. They surpass our expectations both in the quality of their work and the service they provide. We learn from their communication skills and customer service acumen. So each year, we recognize and celebrate one of our vendor partners for going above and beyond the call of duty to help.
This year, we've chosen Craig Campbell from SkyCamp Technologies as our Vendor of the Year.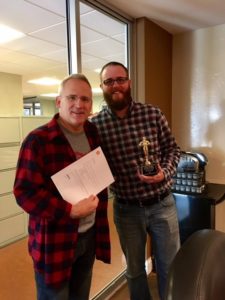 We have thrown an inordinate number of IT-related problems and challenges at Craig and his team over the year, and especially in the last few months:
Software and hardware upgrades and installations
Quirky API integrations
Server migrations
VOIP implementations
Printer configurations
Information and security segregation
Rogue power supplies
The never-ending battle of Mac vs. PC
Through it all, Craig has been there to offer advice and recommend the best solutions for whatever issue we presented. We never have to wonder if something will get done—or done right. He's always responsive, and he communicates clearly. He is proactive in identifying things that could be an issue in the future, and suggesting ways to address them before they become a problem.
Craig and his colleagues are a pleasure to work with, and we're grateful for our relationship.
Congratulations Craig, and thank you for being a great partner.