A Valentine for our Vendors
The end of the business year is a fun time for us. We always enjoy the usual benefits of planning, goal-setting and reflection (take a look back at our favorite projects from 2017).
But there is one particular part of that end-of-the-year/start-of-a-new-year process that I look forward to the most: the selection of our Vendor of the Year.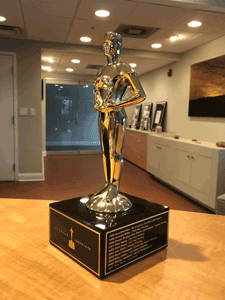 This is our 25th year in business, and I can say with confidence we would not still be here, doing great work for great clients, without the talent and support of our fantastic partners.
Vendor partners are crucial to the success of any business. We select vendors based on expertise, collaborative effort, culture and fit (not necessarily in that order). In fact, we tend to choose those who feel to us like they already work here—folks who think from our perspective and challenge us whenever necessary.
The key criteria we look for when we select our Vendor of the Year is someone who has gone above and beyond the call of duty. And that's what makes our selection so fun. To look at the past year and recall the amazing things that our partners bring to the table—sometimes on short notice, sometimes within an extremely tight budget, sometimes by providing a solution that we didn't even know was possible—brings me great joy and satisfaction for the strong and lasting relationships we've built (see our 2017 honoree, John Herman, here).
Vendor Relationships That Last
Most of our vendor partners have been with us from the beginning.
As I said earlier, we've been in business for 25 years. During that time, we've had the same accountant, the same courier service, the same lawyer, and many of the same printers, photographers and freelancers. We've enjoyed a mutually beneficial relationship with them all, and I expect we'll continue to do so for many years to come.
I'm proud of that. It means we're bringing something good to the table, too.